For the first time in nine years, we now PROUDLY present the Mv-Coachen Elite Goalie Camp 2023! The camp, which was carried out with great success the two previous times, is finally back. We at Mv-Coachen offer you who were born in 2011 or earlier, the opportunity to participate in 2023's big summer camp for ice hockey goalies, the Mv-coach Elite Goalie Camp 2023.

Between 11 -15 July you are warmly welcome to Mörrum, Blekinge, Sweden for five days of well-planned & preparatory training for the season. During these days, you will be offered both on-ice and off-ice training, yoga and exciting lectures in a well-planned schedule. All this and much more you get from well-trained and driven instructors both on-ice and off-ice. Our goal is to give you as a goalkeeper the best possible start and preparation for what will be the best season of your career so far.

The camp will be conducted in two different groups with MAXIMUM 18 goalies in each group, a total of 36 places. We are looking for you who are ready for an educational and intensive week, but most important of everything a fun and developing camp. If there is enough interest, we reserve the right to increase the number of groups to 3 but otherwise maintain the same high quality. Depending on age, the groups will be divided into:
- Senior / Junior
- Youth

For us, the individual is ALWAYS in focus and something we place great value on. With groups of 18 goalies, we want to give all goalies a little EXTRA time and opportunity in the net, but also outside together with other goalies or instructors to bring dialogue and development forward based on the goalies needs.

The camp is led by Mv-Coach's head-instructor Robin Danielsson, who as always has Marcus Arwidsson by his side to help him. Also, just like previous Elite camps, Christian "Lillen" Yngve will be participating as an instructor, which is hugely gratifying. The participants have done tremendous work during previous camps, now we aim to make the 2023 edition of the Elite Camp the best yet!

You can see our partners who make this camp possible on the right here in the menu. We at Mv-Coachen are of course incredibly happy and grateful for their interest and support in creating this opportunity for us and you!
12 specified ice-sessions for goalies.
4 off-ice sessions
2 Yoga-sessions
4 lectures

Personalized training shirt with name and number.
T-shirt
Merchandise from our partners
Lunch / Dinner, daily (only lunch on the last day)
1 social evening with all participants and instructors
We reserve the right for price changes in the EURO depending on the value of the currency.
Below is a brief presentation of those instructors that will be on the Elite Camp
Robin Danielsson is Mv-Coach's founder and head-instructor. With his 9.5 seasons as a full-time goaliecoach in HockeyAllsvenskan, SHL, SDHL and other top European leagues, he has accumulated a large bank of experience that he now wants to share with you and fill up with your inputs and experiences.
In addition to the above-mentioned experiences, he is also in his ninth season as goaliecoach for Team Denmark U18 national team.

Robin has coached goalies who later played in and still today can be found in leagues such as the NHL, AHL, KHL, SDHL and SHL, as well as various national teams such as the Swedish men's and women's national team, Slovenian and Austrian men's national teams to name a few. In addition, there are a number of collaborations with goalies who during or shortly after collaborations were drafted by various NHL organizations.

"Joy creates motivation,
motivation creates development"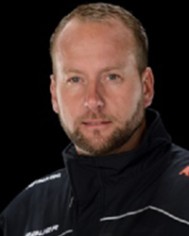 Marcus is now a long-standing and extremely valued instructor with us here at Mv-Coachen.

With several seasons behind him in Karlskrona HK's youth organization as well as in KRIF Hockeys (divison1) & Sölvesborg IK's (division2) senior team, Marcus has built up a large experience bank. In addition, for a number of seasons he has been the goaliecoach for Team Blekinge in the "TV-pucken" tournament. He has also been a instructor for the district/deferation and educated other coming goalie-coaches

Robin about Marcus:

His passion for goalkeepers and not least the individual person behind the mask is outstanding and admirable. He is really passionate about development and constantly walks with a smile on his face, something that is contagious and creates a great atmosphere on and off the ice. Marcus is a GIVEN name when it comes to camps with the Mv-Coach and a true ambassador for Mv-coachen.
With a track record that stretches far beyond the ceiling in the world of hockey, no further introduction is required. He moved home to Sweden a few years ago after a many-year adventure abroad where he made a living coaching goalies.

To mention something about "Lillen" as he is also called, he has also previously been the headcoach for nationalteams like the Swedish womens for a large number of seasons as well as Austria, Spain and HongKong. He has also participated in a number of GCG- Prospects week in Boston. This is a week where qualified coaches from the USA, Canada and the rest of the world gather to train talented and up-coming goalies who play at an elite level in the USA, Canada and Europe.

Robin about "Lillen":

It is a dream to bring Christian down again. We met 10 years ago in Boston during GCG-Prospects week. "Lillen" was a great help to me even then and he always spread a calm and well-being around him. His level of knowledge seems to have no upper limit, while his experience and routine are endless. During previous camps, "Lillen" was incredibly appreciated with his calmness and the aura he spreads around him and that we all know what an incredible level of knowledge he possesses.
We will continuously update regarding more instructors as we get new names to present!
The entire camp will be located at Jössarinken and its surrounding areas in Mörrum. The camp will be run as a day camp, but we will of course help arrange good accommodation through the Best Western Hotel in Karlshamn. For those of you who come alone via local transport, we will do our best to arrange transport between the hotel and the rink. Prices for accommodation are as follows:
Single room: SEK 1,000/night
Double room: SEK 1,200/night. Shared double room: SEK 600/person & night
(write in the registration the desired room & if you want to share a room)
Triple room: SEK 1,400/night. Shared triple room: SEK 467/night & person
(write in the registration the desired room & if you want to share a room)

Vid will do everything we can to accommodate your requests regarding room size as much as possible and reserves us for possible price changes as Best Western Hotel is an external actor. No bookings will be made without your approval and all we do are reservations.
If you plan to fly from your country we recommend you to search for flights to Copenhagen airport, Kastrup, Denmark.

From Kastrup you easy can jump on a train and travel all the way to Mörrum or Karlshamn where we will pick you up.
This travel will take 2h 2o minuts and you make it without any changes.
The price for the train, "a one wat ticket" is around 30 €.
To ensure your place, we recommend that you book today. First come first served and we only have a few places to fill.

As soon as your registration has reached us, we will send a confirmation of your registration within 48 hours which also contains information about how payment is made.